Situated in the Pacific Ocean off the coast of Ecuador, the 19 isolated Galápagos islands and the surrounding marine reserve form a spectacular showcase of diverse animals and pristine ocean. Located at the confluence of three ocean currents, the Galápagos are a melting pot of marine species found nowhere else in the world. Read on for a comprehensive look at the Galápagos Islands, and the best way for you to experience them!
We believe that a live-aboard yacht is THE best way to see the Galápagos Islands!
Ability to see MORE islands and MORE wildlife than a land-based tour!
The best tour guides work on yachts
A wide variety of different cruising vessels available so you can find the one perfect for your group!
Camaraderie of spending your time with such a small group, whether you charter a yacht with your friends or join with new ones!
Click here to see a sample cruise itinerary!
There are almost 100 cruise ship operators throughout the Galápagos and therefore a wide variety in the different sizes, luxuries, and quality of experiences. We highly recommend opting for one of the smaller cruise ships, normally 16-20 people. If you have a group of friends this is a perfect size to charter the whole ship, otherwise you can just book a cabin aboard and spend the evening getting to know other travelers from around the globe.
M/C Endemic: The Galapagos' newest luxury catamaran
The M/C Endemic is the newest catamaran in the Galapagos, launched in July 2018, with capacity for 16 passengers. Being the first in a new generation of catamarans, the Endemic boasts elegant exteriors, spacious and luxurious accommodations, and a beautiful al fresco dining area. Travel between the islands is fast and offers great stability due to the Endemic's innovative design. We are excited to share this luxurious experience with you to make your trip to the Galapagos even more memorable and comfortable.
Boat Specs:
Length: 115 ft / 35mt
Beam: 45 ft / 14 mt
Crew: 10 members + Cruise Service Officer + Guide
Capacity: 16 pax
Speed: 12 knots
Suites Size (including Balcony): 344 sq ft / 32 sq mt
The most popular way to cruise the islands, single hull cruise boats offer the best of both worlds. Many have luxurious interiors but still maintain that classic boat feel. Knowledgeable guides will show you the best that the Galápagos has to offer, help you get your sea legs, and rejoice with you at each new wildlife sighting. Below are examples of upper-tier, mid-tier, and lower-tier yachts.
Catamaran boats, or boats with two hulls, provide the ultimate cruising experience, combining spacious interiors with a stability unachievable by single-hull boats. Also with a maximum capacity of 16 passengers, you can decide if you want to be with the group or enjoy the Galápagos from the private balcony off your cabin. Below are examples of upper-tier, mid-tier, and lower-tier catamarans.
Is a land-based tour right for you?
Great for people prone to sea-sickness

Wider variety of activities available

More local interaction and support of local economy

Less expensive than a cruise-based tour

Private tours for any group size
Cons
Less wildlife closer to town

Less convenient methods for intra-island travel

Many additional personal expenses
Explore the Galápagos from its port towns!
Land-based Galápagos tours offer an alternative to live aboard yachts. Stay in comfy hotels, eat at local restaurants and visit nearby islands on day tours by small speedboat. Galápagos multi-sport and island hopping tours are done on the inhabited islands.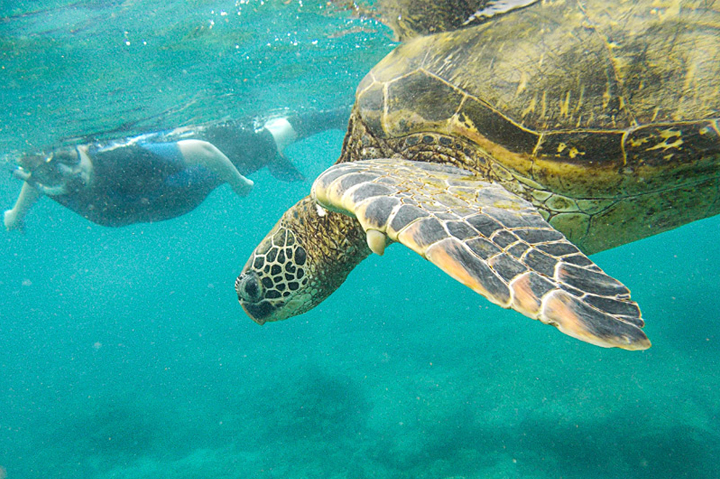 If you can't stomach the seas or don't enjoy relaxing on-board the ship, booking a multi-sport tour of the Galápagos is a great option. Over the course of your stay you will get the opportunity to snorkel with the sea lions, sea kayak the crystal-clear waters, hike and bike the volcanic islands, and spend time relaxing on the beaches. You can include day trips to different islands via motor speedboat to the hot spots of your favorite animals so as not to miss out on all the amazing wildlife!
If your heart is set on a cruise-based tour but you wouldn't mind some hiking or biking as well, you can always add a few land-based days onto the end of your cruise! This will allow you to get the best wildlife viewing on the cruise, and also get active on land. A few days on land exploring the port-towns and supporting the local economy is a great way to wrap up your Galápagos experience!
Land Iguana
Marine Iguana
Santa Fe Land Iguana
Galápagos Penguin
Galápagos Sea Lion
Galápagos Fur Seal
Galápagos Giant Tortoise
Galápagos Albatross
Blue-footed Booby
Nazca Booby
Red-footed Booby
Flightless Cormorant
American Flamingo
Magnificent Frigate Bird
Galápagos Hawk
The Galápagos Islands are an exciting destination every month of the year. Something is always happening and there are departures every week. The usual peak travel times of July, August and late December ideally need to be booked well in advance (6 months to a year). The larger your party the more time in advance is needed to find accommodations. Review the calendar below to see what will be happening when you visit the Galápagos.
January through June
July through December

Giant Tortoises migrate from high to lowland for nesting and to hatch their eggs.
Green Sea Turtle eggs hatch
Blue-footed Boobies mating
Penguins migrate to Isabela and Fernandina islands

Whales migrate up the coast of Ecuador passing by the Galápagos, sightings are common
Galápagos Sea Lions mating and giving birth to pups
Blue-footed Booby chicks being raised
History of the Galápagos Islands
The Galápagos Islands were first discovered in 1535 by Fray Tomás de Berlanga, the Bishop of Panama, entirely by accident! His ship was becalmed (left stranded with no winds) and currents carried his ship west into the islands. He saw little value in the islands and they were mostly untouched until later that century when pirates, sanctioned by England, used the islands as a base from which to raid Spanish trading ships.
The islands were still in relative obscurity in 1835 when the H.M.S. Beagle stopped there carrying a 22-year-old scientist by the name of Charles Darwin. He was fascinated by the slight differences amongst the same species of animals on different islands which gave him the inspiration for his book The Origin of Species, published in 1859, twenty-four years after his visit. Contrary to popular belief, this book did not introduce the idea of evolution, but elaborated on the how and why of evolution.
Tourism of the island did not really kick off until 1935, the 100-year anniversary of Darwin's visit. In that year, the Ecuadorian government designated parts of the islands as wildlife preserves to protect the rare species that occupy them. In 1959 the Galápagos Islands were declared a National Park and the work was finished in 1968 with the finalization of the park boundaries and creation of a park service to oversee it. Even in 1970 the Galápagos only received about 1,000 visitors. Now there are upwards of 215,000 visitors that visit the Islands each year!
Start Planning
You do the dreaming, we take care of the rest. Call us or email us to start planning your dream adventure in the adrenaline-filled & culturally-engaging Andean region!