Trip Overview
This trip offers plenty of physical challenge and a solid acclimatization process to set you up for a successful high altitude volcano glacier climb. Watch the sun rise over the Amazon basin from the top of the Andes. Gradually get accustomed to the altitude by mountain biking, horseback riding, hiking at elevation and summiting a nearby peak before climbing up to the top of one of Ecuador's many volcanoes.
This is a sample itinerary, which we have put together to give you an idea of what a trip might look like. However our strength is in creating custom trips for each and every client so we look forward to adapting this itinerary to your groups interests and abilities!
Day 1

– International Travel Day
After arriving in Ecuador, there will be a private transfer to your accommodations and a free evening.
Day 2

– City Exploration / Hiking
Morning to explore the beautiful colonial center of Quito by foot then head out to a private forest reserve for a short hike.
Day 3

– Downhill Mountain Biking
Continue to acclimate today by enjoying a day of mostly downhill biking. There are great options for first time and experienced riders alike.
Day 4

– Non-technical Peak Climb
Early morning cross country hike and non-technical peak ascent to get the lungs pumping and heart beating at elevation. This is a full day designed to get you warmed up for the highlight of the trip, the volcano ascent.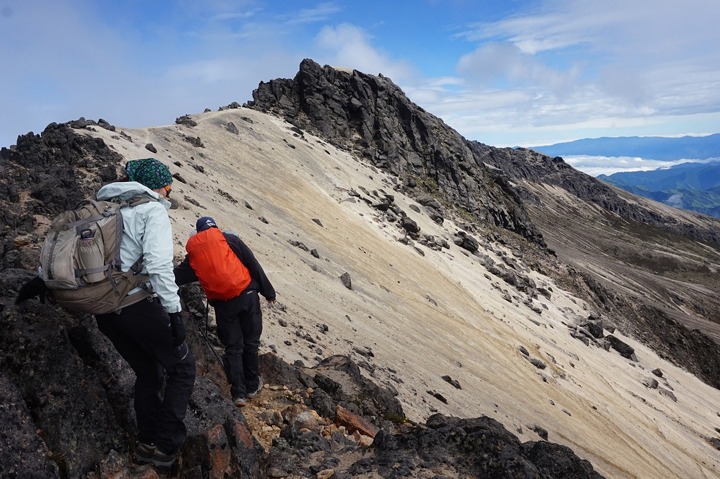 Day 5

– Horseback Ride / Expedition Prep
Ride on horseback this morning across the high Andes to give your legs and lungs a chance to strengthen up and recover from the hard hike yesterday. The afternoon is for team building activities and expedition preparation to get ready for the big climb.
Day 6

– Glacier School / Start Climb
The first relaxing morning on the trip to sleep in or walk in the countryside on your own before breakfast. After breakfast, head up the glacier to prepare rope teams and learn or practice glacier school techniques. After a few short hours of shut eye you will get suited up to begin the glacier climb at midnight in order to get up and down the mountain before the glacier warms up.
Finish your climb in the early morning and be back at the climbers hut in time for breakfast. Time to kick your feet up to admire at your accomplishment! Then sort your gear and head directly to a non-sulfurous natural hot spring to relax your weary muscles and enjoy a celebratory meal. You will definitely sleep well tonight!
Day 8

– Hot Springs / Optional Hike
Morning to soak, catch a massage, visit an interpretive center or take a hike along the river of a completely different type of forest. After lunch head back to the airport to begin your next journey tomorrow morning.
Day 9

– International Travel Day
Catch a flight to your next destination, either home or on to your next South American destination!
Start Planning
You do the dreaming, we take care of the rest. Send us an email or call us to get started planning your dream adventure in this amazing location now!